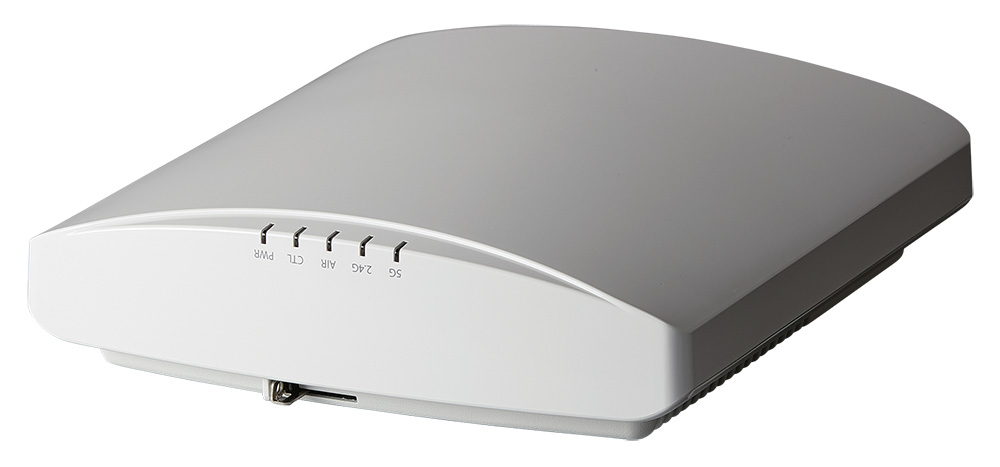 The R730 is based on the latest Wi-Fi standard, 802.11ax and bridges the performance gap from 'gigabit' Wi-Fi to 'multi-gigabit' Wi-Fi in support of the insatiable demand for better and faster Wi-Fi.
The R730 makes it easy to deliver reliable, secure, high-performance connectivity in large enterprises, small & medium businesses, public venues, convention centers, and practically any other indoor space.
The Ruckus R730 is our highest capacity dual-band, dual-concurrent 802.11ax AP that supports 12 spatial streams (8x8:8 in 5GHz, 4x4:4 in 2.4GHz). The R730, with OFDMA and MU-MIMO capabilities, efficiently manages more than 1K client connections with increased capacity, improved coverage, and performance in ultra-high dense environments. Furthermore, 5 Gbps multi-gigabit Ethernet ports enhance backhaul capacity.
Specification:
Improve device performance, by enabling more simultaneous device connections with built-in 12 spatial streams (8x8:8 in 5GHz, 4x4:4 in 2.4GHz), MU-MIMO and OFDMA technology.

Provides exceptional end-user experience within stadiums, large public venues, convention centers and school auditoriums with the Ruckus Ultra-High-Density Technology Suite.

Upgrade to the latest Wi-Fi security standard with WPA3 and receive enhanced protection from man-in-the-middle attacks in the most secure way.

Optimized multi-gigabit Wi-Fi performance delivered using built-in 5GbE/2.5GbE Ethernet ports to connect to multi-gigabit switches.

ChannelFly™ dynamic channel technology uses machine learning to automatically find the least congested channels. You always get the highest throughput the band can support.

Support services beyond Wi-Fi with Ruckus IoT Suite, Cloudpath security and onboarding software, SPoT Wi-Fi location engine, and SCI network analytics.